Railway minister Piyush Goyal promoted washing and cleaning technology used by the station
CHANDIGARH: The city railway station, which was ranked at a dismal 55th position in cleanliness in 2018, wastes an astounding 6.5 lakh litres of fresh water daily in cleaning the premises.
The TOI found this after railway minister Piyush Goyalpromoted washing and cleaning technology used by the station in a video posted online. The 1.22-minute video shows sanitation staff of Chandigarh and Anand Vihar railway stations cleaning dustbins, escalators and floors. The post by the railway minister also includes praise for the ministry's cleaning routine. "Railways uses an organized and timely system of maintenance to ensure cleanliness at stations and platforms. Support us in keeping our railway network clean and hygienic through our joint effort," says the message.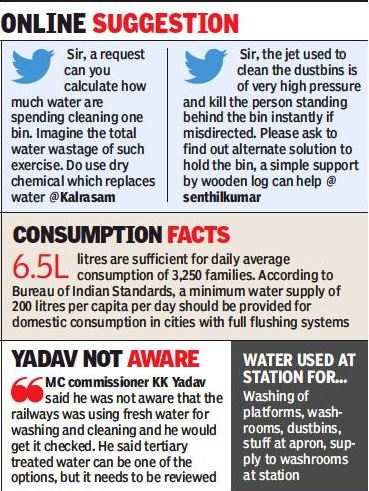 The city railway station has only a single water connection — that of drinking water. As per the officers, the employees use it for all purposes, including washing of platforms, washrooms, supply to the station toilets and at apron. "The station has been using fresh water since it was set up on February 16, 1954," said sources in the Northern Railways.
At present, sanitation staff clean five of six platforms with fresh water supply. One of the platforms is not cleaned regularly as few trains come there. There are 70 pairs of wet and dry dustbins and 10 more will be installed soon. All bins are also washed with fresh water.
Balbir Singh — official representative of the Indian Railway Stations Development Corporation Limited (IRSDC), which looks after all the passenger amenities — said when the station was handed over to them this year, they found that it had only drinking water supply.
Plan to use treated water
He said: "The sanitation staff use it for cleaning. We were forced to continue the practice as there is no other option available."
The IRSDC is at present working on a proposal along with the Chandigarh municipal corporation to ensure supply of tertiary treated water for washing of platforms and dustbins. It also plans to set up a sewerage treatment plant (STP) at the railway station and this has been approved under the ongoing world-class station project. "After work on the world-class station project starts in Chandigarh, the STP will be set up," he added.
Northern Railway said three months ago, it had raised the matter with IRSDC to use jet machines for cleaning platforms instead of using normal pipe.
["source=timesofindia.indiatimes"]