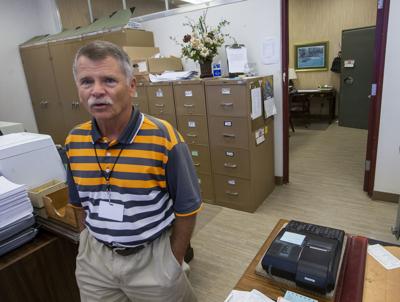 FLORENCE — Four months ago, Lauderdale County officials walked in on a watery mess.
Plumbing issues from a restroom in the Revenue Commission office flooded a great deal of the offices on the first floor of the courthouse, ruining the carpet.
Today, the scene is much better with new tiling replacing the carpeted areas and covering virtually the entire first floor.
"I'm real pleased with the new flooring," Revenue Commissioner Danny Hendrix said. "It looks real consistent. We and the probate office have the same floor. The people who did it did a fabulous job."
County Administrator Brenda Bryant said the flooding occurred in May.
"We had a lot of water on the floor," Bryant said. "It got into some old carpet."
Workers completed the job last week. Bryant said local firms were used.
She said county commissioners agreed to a $50,000 contract to remove the carpet and replace it with tile.
The Carpet Store, Florence, did the work with tile bought from Tarkett, Florence, Bryant said.
"We had the floor company come out and do an abatement, where they inspected for any harmful chemicals," Bryant said. "We had a couple of places we had to have fixed before we did the new floor."
The flooring is a no-wax surface, which will help with maintenance.
"You don't have to put coats and coats of wax on it," Bryant said.
The work included nearly the entire first floor, as well as the commission meeting room and some offices on the third floor, officials said.
["source=timesdaily"]